Dalai Lamas 18 leveregler.
Disse kjente jeg ikke til før nå, men oppdaget dem da jeg ønsket å lese meg opp på hva spenningen rundt Dalai Lama skyldes og hvorfor ingen norske politikere ønsker (våger) å møte Nobelsprisvinneren. Jeg forsøkte først å oversette dem til norsk, men jeg synes ikke jeg fikk det til noe særlig bra, så deler dem med deg på engelsk. 
1. Take into account that great love and great achievements involve great risk.
 2. When you lose, don't lose the lesson
3. Follow the three Rs: 1. Respect for self 2. Respect for others 3. Responsibility for all your actions.
4. Remember that not getting what you want is sometimes a wonderful stroke of luck.
5. Learn the rules so you know how to break them properly.
6. Don't let a little dispute injure a great friendship.
7. When you realize you've made a mistake, take immediate steps to correct it.
8. Spend some time alone every day.
9. Open your arms to change, but don't let go of your values.
10. Remember that silence is sometimes the best answer.
11. Live a good, honourable life. Then when you get older and think back, you'll be able to enjoy it a second time.
12. A loving atmosphere in your home is the foundation for your life.
13. In disagreements with loved ones, deal only with the current situation. Don''t bring up the past.
14. Share your knowledge. It's a way to achieve immortality.
15. Be gentle with the earth.
16. Once a year, go someplace you've never been before.
17. Remember that the best relationship is one in which your love for each other exceeds your need for each other.
18. Judge your success by what you had to give up in order to get it.
 PS (lagt til 9/5/2014): Jeg har blitt gjort oppmerksom på at disse først ble publisert i  Life's Little Instruction Book: 511 Suggestions, Observations, and Reminders on How to Live a Happy and Rewarding Life.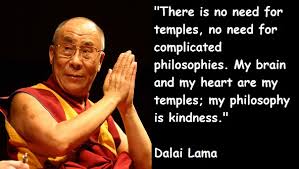 #dalailama #nobelpeaceprize #fredspris #norge #dalailamasrulesforliving #meditation #happiness #lykke 
Her er jeg på FACEBOOK